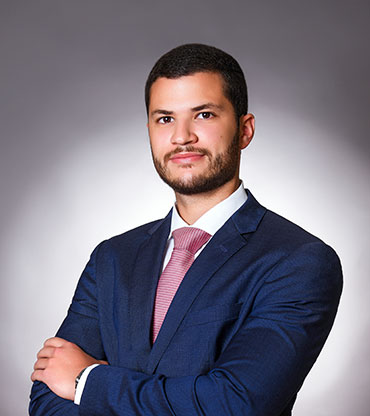 Universidad Iberoamericana (UNIBE), Bachelor's Degree in Law, Cum-Laude, year 2017.
He concluded the master's program at ESADE Business & Law School in Barcelona, where he received the Master's Degree in International Business Law from the Ramón Llull University, ESADE Law School, as well as the 360 Diploma in Management & Cross Skills for Legal Professionals.
He obtained the Certification in Litigation Techniques in Civil Matters taught by FUNDECCOM in 2017.
In 2015, he was recognized as a finalist for the Juan Pablo Duarte National Award for Youth Excellence by the Ministry of Youth of the Dominican Republic.
Current member of:
· National Association of Young Entrepreneurs (ANJE), within the Entrepreneurship & Innovation and Justice & Legislation Commissions.
· Dominican Bar Association.